Grand Damasu

Welcome to Grand Damasu! An 18+ BL Erotic Visual Romance Novel that we are currently developing. The idea for the structure of the game came about through our Kickstarter community. At first Grand Damasu was going to be an episodic romance visual novel that dealt with life, love and first times. However, after listening to our community we decided to change things up and make Grand Damasu a full on fun, fantasy single release game.

We wrote up a quick post on how "The Grand Series" came about over on our site CrownCrest.Studio, check it out!

We took Elijah's backstory and created Grand Kokoro, it's a serious game that deals with heartbreak, tragedy, acceptance, perseverance, and mental health. If you're looking for a heart-wrenching paranormal romance Grand Kokoro is for you!

If not, no problem we understand. You just want to have fun and that's what our spin-off Grand Damasu is all about!
Here are a few items we are currently working on:

Character Sprites
CG's
Backgrounds
Music
Demo
Trailer
Things are a bit rough and the art direction may change but we haven't given up on this little erotic gem!

Be sure to follow @GrandDamasu or @StCrownCrest to stay up-to-date on all new developments of Grand Damasu!

Elijah Grand has just finished his first year of college and it was intense! He doesn't remember much about last year other than the fact that it was extremely difficult and mind-numbingly boring.

But he's put all that behind him and he's ready for some new adventures!


There's just one big problem...he doesn't know where to start. Luckily his two best friends Lucien and Sebastian are here to help and they know exactly what he needs.

Fivesome? Anyone?



Elijah is about to be thrown head first into the dating world. There's just one rule.
He can't tell the other guys about each other. Why? Who knows it's Lucien and Sebastian's rule and since they're running the game Elijah has to listen -- that is if he wants to have any fun!

Will Elijah be able to have some illicit fun? Will he find true romance? Or will each one of his flings be doomed?

Help Elijah decide if he dates one guy, two guys or all four guys! But keep in mind the more guys you decide to romance, the harder it gets to keep them a secret from one another.

And beware! Elijah's two "friends" are on their own little journey of fun and exploration. Taking their advice (or not) may lead to some surprising competition!




But Elijah has a secret weapon on his side and that's finding out his lovers "Hidden Kink." Once he's able to satisfy his new lovers kinky fantasy they won't be looking at anyone else.
Will Elijah have what it takes to be in the dating world? We are about to find out!


Join us and stay up-to-date on the development of Grand Damasu by following us @GrandDamasu.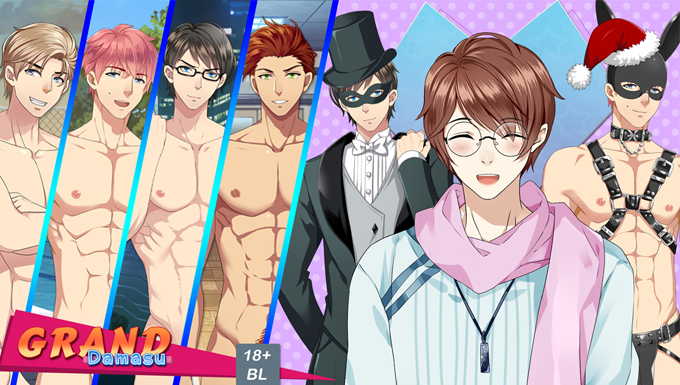 Affection System: Keep those love meters full by spending time with the guys, giving them items from the gift shop or by finding out their "Hidden Kink." If their love meters drop they'll start to wonder if you really like them.
Gift Shop: Gather items from the gift shop to give to your favorite guy, but be careful if you give the wrong item to the wrong guy that could deplete his love meter.
Inventory System: Store all your items in your bag and when you're ready whip it out!
15+ Endings: 3 endings per guy - Happy, Sad, Neutral.
Gameplay: 20+ hours.
Original Soundtrack: 10+ Songs.
CGs: 20+
18+ CGs: 10
Hidden Kinks: Discover each guy's hidden kink for some extra 18+ fun!

Once Grand Damasu is finished and released, we will be adding a new character to the game every *2-3 months. So you may be able to juggle four guys at once, but how about 6? Or 7? Or even 10!?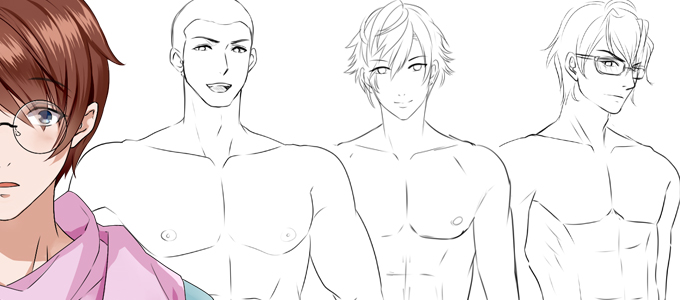 *More information about this feature will be in our next update, so stay tuned!